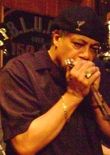 This month Latin jazz musicians are suing the Recording Academy over a controversial decision to eliminate two dozen Grammy awards categories for ethnic and roots music
 http://www.billboard.biz/bbbiz/industry/record-labels/neil-portnow-on-latin- jazz-grammy-elimination-1005304552.story
  Some observations of Chicago Tribune jazz critic Howard Reich, just before the 2011 Chicago Blues Fest, shed some light on the under-valuing of American roots music. Like many things it can be traced to the shortsighted non-leadership of big business.
  HOWARD REICH , 21st Century Blues: Can an Ancestral Art Form Survive? Chicago Tribune June 3, 2011 (print version June 5)
http://articles.chicagotribune.com/2011-06-03/entertainment/ct-ae-0605-blues-three-generations-20110603_1_chicago-blues-festival-country-music-21st-century-blues
Reich quotes  singer Shemekia Copeland, age 32: "My big dream was to make blues music mainstream…I love the music so much, and I think it has a right to be just as big as, say, country music is. But, unfortunately, we just don't have the resources."
The infrastructure of music in America, Reich points out— the ways in which sounds are disseminated online, through the airwaves and via cable — gives little push to any musical genre that doesn't already command massive sales.  This doesn't mean one can't make money on blues, jazz, folk, Native American music—maybe just not millions. But who is to say what might be possible if promotion were put behind it?
"Why is the blues marginal? Because in America, everything is about what's new, what's new, what's new," Reich quotes Copeland, daughter of the late blues-guitar master Johnny "Clyde" Copeland. "They don't respect old people, they don't respect anything old. And it irritates me when I go to other places (such as Europe) and I see how they treat things, and how much they respect things. Here, it's like: Who's got the new album? Who's got the No. 1 thing? When's the new iPod 6 coming out?"
The irony is that all this new stuff is here today, gone tomorrow—while blues and other rooted music that expresses true human feelings, goes on for years and years.
Like Copeland, veteran Chicago singer-harmonica player Billy Branch — a generation older — also bristles at the neglect accorded this music, which is why he has been bringing it into the Chicago public schools for more than three decades. His Blues in the Schools program has introduced songs of Muddy Waters and Howlin' Wolf, Willie Dixon and Big Walter Horton to kids who otherwise wouldn't hear them.
It's about cultural heritage — that children don't know their past," Branch, 59, told Reich. "I have talked to every ethnic group on the planet. I've even done Blues in the Schools in Japan.  But in the case of younger African-American children in the inner city, they have very little to hold on to, and a lot of times they come in, their heads are down and they look sad. This isn't all the time or across the board. But the main thing I try to impart to them is that this is your people's music, and without this there would be no Beyonce, there would be no Michael Jackson.
Branch notes that the blues blossomed from the bloody fields of slavery. Ever since, the blues and the culture that created it have fought mightily to be heard.
"Willie Dixon sent a mimeographed letter to every member of Congress … (saying) there was a conspiracy to keep the blues off the radio," recalled Branch, who toured and recorded with Dixon for years.  "His reasoning was this: If it becomes apparent that my music is just as rich or valuable as your music — or even more so — then what basis do I have to discriminate against you?
"So he linked the culture and discrimination and social injustice to the lack of airplay of the blues. Which was pretty deep. Willie also used to say that we were fooled into believing that blues was low-class and dirty, lowdown music."
So this may be one reason that blues men and women have gone along for years with their second class status, while the industry passes them by in favor of the bland, robotlike, noisy, insulting trash that now fills the airways. Hiphop artists even complain that within their genre, thoughtful songs seem to get bypassed in favor of dirty lyrics.
Maybe it's time to quit accepting this state of things. Billy Branch tells young Black kids: "This is something to be proud of. Your people gave birth to this music we call the blues." 
All of us as Americans should lift up this music. These days, we need the blues to combat the blues being politically and economically forced upon us.  Shemekia says there are no "resources" to promote blues and soul music. But Frederick Douglass said power concedes nothing without a fight.  Maybe we need to demand a share of the pie.