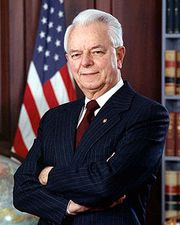 Senator Robert C Byrd has died at 92, with his boots on, the way he wanted to, a U.S. Senator til the end. In our sparsely populated Mountain State, everyone had a chance to know him. All you had to do was show up when they cut the ribbon to one of the many projects he funded, or come to any county's annual Democratic dinner. Fried chicken. Country ham. Cornbread and beans.  Introduce yourself and shake hands with one of the most powerful men in the country.
 Senator Byrd remembered everyone he met; the hallmark of any skilled politician. But he was also a very learned and principled man. With his grip on parliamentary procedure, he would outwit and outmaneuver all the other senators to get what he wanted, with great dignity and sometimes a smirk. He had the whole U.S. Constitution memorized. While other Congress members went to parties and made fun of his homespun, halting talk, he stayed home with his wife Erma and studied.
 Senator Byrd was always trying to get "pork" in Congress: money for projects in West Virginia. He and I did not always agree on what our state needed. In the 1990s we fought a seven year battle. He and other politicians wanted to build a four-lane highway, Corridor H, through the Potomac Highlands of northeastern West Virginia, where there is almost no traffic. I was one of the leaders of a citizen group, Corridor H Alternatives, that favored improving existing roads rather than tearing up farms, rivers and forests to get a few cars through our area faster. We campaigned to cut the money for Corridor H but he got over half of the road built.  All the while, the Senator and I never called each other names—except the title "King of Pork," a name which he proudly claimed.
 What our senator and I did agree on was the importance of passenger trains. Twice our group Retain the Train called on Senator Byrd (as well as Congressman Rahall and the late Senator Jennings Randolph) to save the Amtrak Cardinal, which runs through southern West Virginia between Chicago and D.C. and New York. To keep our train in 1982, he had to compromise; Amtrak only runs it three days a week. Now our passenger group in Charleston, the state capital, Friends of the Cardinal, is lobbying to get the train restored to daily service.  The train should be a key connector between the Northeast Corridor and the upcoming Midwestern high speed rail lines.
 Coming from where he was raised in rural North Carolina and southern West Virginia, Byrd was on the reactionary side of some heavy national issues. In the 1940s, always looking for groups to support his political aspirations, he joined the Ku Klux Klan, and in the 1960s, filibustered the civil rights bill.  Later he realized his prejudices and errors, and voted accordingly. In 2007, some of my friends heard his eloquent apology at the 100th anniversary of the founding of NAACP in Harpers Ferry, WV. Byrd also supported the U.S. war in Vietnam, but after seeing the results he was one of the handful of Congress members to oppose the war in Iraq in 2003.  During the past year, after a lifetime of supporting the coal industry, he called for alternatives to the destructive removal of mountains by mine operators.
 It takes a big person to admit publicly that you are wrong and you need to change direction.  But this is exactly the kind of humility required of both ourselves and our leaders. That is, if humanity and this planet are to survive.
 I'll be out there in the crowd, with a lot of my friends for the memorial service on the lawn of the state capitol Friday.  President Obama, Vice President Biden, and every politician in the state will be there. May our Great Byrd rest in peace.