Writing, Editing, Organizing History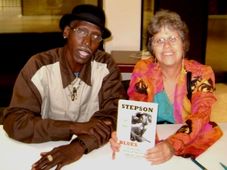 Bonni's 40 years of  writings and presentations convey a lifetime of grassroots citizenship and ongoing knowledge of civics, environment, transportation, bridges to African American culture, and generational perspectives.  She is offering her services as editor for those writing short stories, novels, memoirs, and journalistic works.  Contact her for a quote on your project--roughly $25-35/hour for developmental or line/copyediting based on word count.   Read here to learn What's an Editor Do? .
She can assist you in decluttering and sorting through papers to sift out your buried treasures-- your significant family and community history. 
--"I'm grateful to Bonni, who helped me to focus and polish my short story called 'Contagious', recently published in an anthology called Shades of Positively Pandemic by Write Volumes.
Thank you, Bonni, for your good work! "    --Nasrin Menalagha
BONNI's EXPERIENCE:
Bonni's writings and presentations convey a lifetime of grassroots citizenship and journalism and a respectful, constantly growing knowledge of African American culture. Graduating from the WVU School of Journalism in 1971, she worked as a reporter and copyeditor for daily newspapers: the News-Times in Danbury, CT, Southwest Times in  Pulaski, Virginia and the Beckley Post-Herald and Charleston Gazette in West Virginia.
In Chicago Bonni's blog "West Side Blues" plus freelance articles on neighborhood business and culture, appeared in the Austin Weekly News in Chicago's farthest-west West Side neighborhood. In 2018-19 she served as a Documenter for the citizen news service City Bureau.
In the 1990s She organized the archives of Capon Springs and Farms, a historic spa with 200 year old buildings in eastern W.Va., and wrote the book on these buildlngs sold at the resort today.. 
Bonni was a contributing writer to West Virginia Encyclopedia. She wrote the cover story on Chicago West Side musicians for Big City Rhythm and Blues magazine in August 2006. In 2014 she wrote the "Music" webpage for the Maxwell Street Foundation site.  Two of her poems were published in the West Virginia anthology "Wild Sweet Notes"
Bonni is the author of two biographies. Peaceful Patriot: The Story of Tom Bennett, is the 1980 biography of a West Virginia conscientious objector and Army medic killed in Vietnam.  In 2010 she co-wrote Stepson of the Blues,  the autobiography of West Side Chicago blues singer/drummer Larry Hill Taylor, Stepson of the Blues,  currently out of print. She and Larry occasionally give talks for libraries, schools and community groups about blues history and heritage.
Larry Taylor
LARRY TAYLOR: The Roots of Chicago Blues
Bonni has served as publicist, promoter, and sometimes keyboard player for Chicago West Side blues and soul singer/drummer Larry Taylor--oldest in the talented musical family of the late Eddie Taylor Sr. and Vera Taylor. Bonni co-wrote and published Larry's limited-edition autobiography Stepson of the Blues, and co-produced his albums They Were in This House (2004, re-released by Wolf Records in 2011) and New Chicago Sounds of Larry Taylor, 2017 Larry is a leader in the blues and soul tradition of Chicago. He and Bonni use the blues--the root of all American popular music--to bring people together.  He calls his band the Soul Blues Healers. www.larrytaylorchicagoblues.com  He and Bonni occasionally present blues history talks and demonstrations. 
The city of Chicago honored Larry Taylor an Esteem Artist in 2020--one of 13 in various artistic disciplines citywide.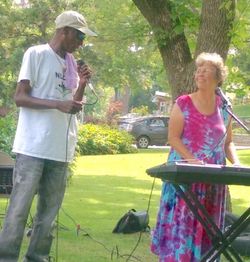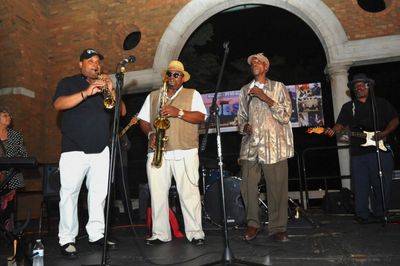 Bonni's keyboard work with Larry is on this video of the Howlin Wolf-style "Tell Me Baby" at the April 2018 memorial jam for West Side bass player Sleepy Riley at the Water Hole
Bonni co-produced and played on Chicago West Side singer and bandleader Larry Taylor's debut CD in 2004, They Were in This House, which the Chicago Sun-Times called "one of the year's best blues albums."  Wolf Records in Austria reissued Taylor's album in 2011. In 2017 they produced an EP of four of Larry's original tunes: "New Chicago Sounds of Larry Taylor."
Watch Bonni's historical interview with Larry Taylor on CAN-TV in 2019.
Educational blues workshops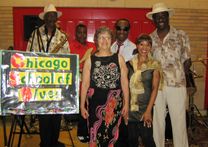 Through blues, students discover the history of African Americans and America's popular music. Blues is at the root of rock, hiphop, R&B jazz, and even country.   Bonni supports blues for economic development to benefit the people and communities who created this historic art form. 
During the early 2000s, Bonni taught blues history and music with elementary students at Chicago West Side's Austin Town Hall, Donoghue Elementary, South Side Chicago; Piedmont School in Charleston WV; with seniors at Charleston's FestivALL Elderhostel; and on the road in Morgan County, WV with West Virginia singer-songwriter and First Lady of Soul "Lady D," Doris Fields.  Lady D helped create the first "Sing Your Own Blues Tune" programs with Bonni .In 2006-07 she helped organize the Charleston WV Blues Society and arranged for a Humanities lecture by WVU jazz professor Dr. Christopher Wilkinson about the history of African-American swing bands traveling through West Virginia.
Since 2009, Bonni has helped reconnect generations through a traveling educational workshop called Chicago School of Blues.  Students learn to compose their own blues tunes, and a band of South and West Side musicians introduces them to musical instruments.  She also given history talks and demonstrations focused on Chicago's West Side, and promoted the blues for economic development to benefit the Black communities it came from.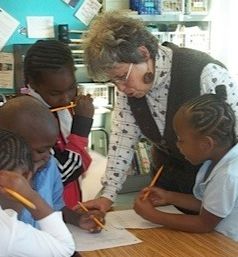 Bonni's Blues Films
Working with videographer Chris Wilkinson in July of 2013, Bonni produced a concert video of bluesmen in action at BBF, a West Side social service agency. You can hear up close and personal blues and soul performed by singers Willie D and Larry Taylor.  Working with Wilkinson using footage shot by Darryl Pitts, she produced videos of Larry Taylor "On Drums"  and "On the Blues."
In 2015, Bonni began producing her own feature film about a family of Chicago blues musicians in the 1960s-70s, based on part of Larry Taylor's life story. The Rhythm and the Blues , with Darryl Pitts (producer of the documentary Reel Black Love.) Features the actor Leon as Larry's stepfather Eddie Taylor and bluesman/actor/storyteller Guy Davis as Eddie's road partner Jimmy Reed. Pitts is  finishing the film.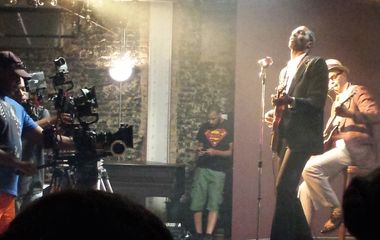 Barrelhouse Bonni - Piano Vocal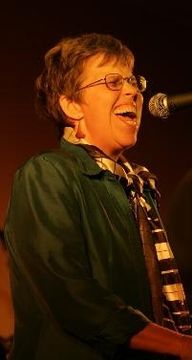 "Barrelhouse Bonni" McKeown is a journalist, blues piano player, teaching artist,  and citizen activist who presents and supports heritage musicians upholding the blues and soul tradition. Her motto: PRAY FOR PEACE; WORK FOR JUSTICE; BOOGIE FOR SURVIVAL.
Bonni's blues piano, singing and songwriting style echoes back to the upright pianos in the juke joints and barrelhouses of the South, and the Bessie Smith era of vintage 1930s blues. From Chicago to her home state of West Virginia and beyond, she takes the blues to concerts, classes, parties, senior homes, and festivals. True to the tradition of this community music, Bonni involves the audience. For seniors, she leads a campfire-style sing-along of early 20th century favorites.
Bonni has performed in a series of duos with distinguished senior blues musicians including Chicago singers Gloria Shannon and Larry Taylor, guitarist Eddie Taylor Jr. and sax player Abb Locke, and fine West Virginia horn players like Bob Redd, Marshall Petty and Dugan Carter. From tastefully naughty ragtime era tunes to goodtime dances and beautiful ballads, fans learn that good music never fades away!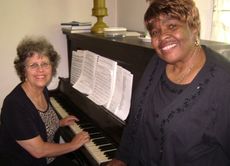 Bonni's music sounds best on a traditional acoustic stringed piano, as in this VIDEO:with Michael Hasty on harp in Winchester, VA.
But she also has piano, will travel: a sound system, microphones and an electric keyboard if needed. Financial arrangements for concerts, classroom workshops, and book talks are negotiated depending on time, effort, travel, and causes. An advocate of sustainable transportation, she often carpools or takes trains and public transportation to her gigs.
On Bonni's own 2003 CD, Barbershop Blues, three of Washington DC's finest acoustic bluesmen—Jay Summerour, Mike Baytop and NJ Warren—play as guests, recording several songs at the landmark Archie Edwards barbershop.