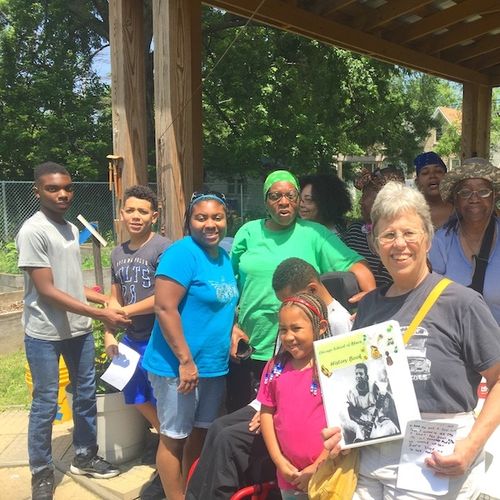 Sharing Blues at Hermitage Garden
History workshop all ages
South Side, 2018--Bonni brings blues history scrapbook to show youngsters the blues artists who've moved Chicago--Howlin' Wolf, Memphis Minnie, Muddy Waters--and simple ways to make up your own blues tune. Everybody has their own story to tell in a three-line blues verse
Bonni's Original corona song LIVE
About Bonni
For Barrelhouse Bonni McKeown--  neighborhood blues music  promoter and educator, piano player, transportation activist, film producer --blues music is a bridge between city and country, between ethnic groups and generations. She helps local arts, history and business  bring people together in our challenging times.  In music,  she's available to play the blues with you, lead singalongs, help you learn to make up your own blues tune.  In the literary department, she serves as an editor and as an organizer of history archives.
WRITINGS
Read Bonni's blues and Chicago West Side community writings in the Austin Weekly News
Bonni's writing contributed to the music history webpage with Maxwell Street Foundation
Bonni's book Peaceful Patriot: The Story of Tom Bennett" featured in West Virginia Encyclopedia
CLICK on  BLOG page, left for excerpts from Bonni's upcoming novel "Delta Song"
Need Bonni to Edit Your Writing?
Over 40 years experience  a journalist, copyeditor and fiction writer--Bonni knows a thing about words, and can help you use them to tell your best story.  Email her for info. Developmental and line/copy editing for short stories, novels, memoirs, and pieces to promote your business.( No porn or graphic violence;  too much of that around already.)  Rates are roughly $25-35/hour, total job quoted before we start. Read here to learn What's an Editor Do?
Bonni's Corona Quarantine Song (not quite G rated):  Let'sExercise! 

DONATE TAX DEDUCTIBLE  to Bonni's "Boogie for Survival" Project  to sponsor Bonni's next book, film project or community concert  with 501c3 fiscal Sponsor     FRACTURED ATLAS          
"

Bonni plays her pure heart...honestly." - Gaye Adegbalola, blues singer songwriter