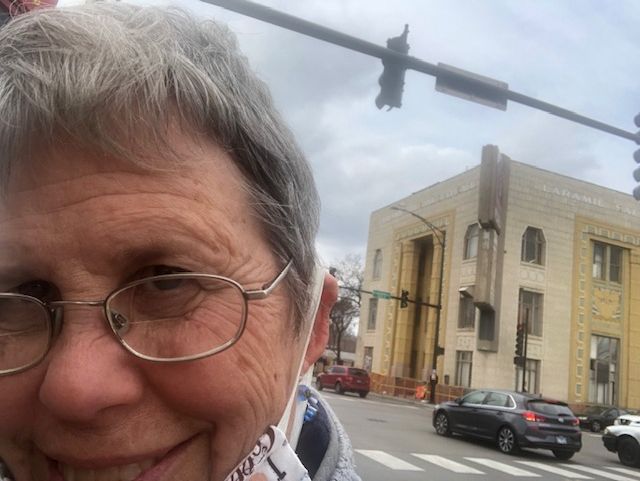 In March 2021, , Chicago Mayor Lori Lightfoot announced plans to redevelop the historic Laramie Citizens Bank building at the corner of Chicago Avenue and Laramie. It will offer housing, business and culture through the neighborhood program Invest South and West. An easy ride on Bus 66 along the designated Chicago Avenue "Soul City" business corridor, this striking popular landmark can draw both locals and visitors. If carried out in a thoughtful and inclusive manner, the Laramie bank project can truly benefit the economy and morale of West Side residents as we recover from personal and economic losses of COVID 19. 
Oak Park Housing Center and its affiliate Austin Alliance offered the winning bid for the building redevelopment. Their presentation included plans for a "blues museum."
We brought up the idea of blues and soul as a local cultural asset in a series of public meetings in 2017 at Crystal Dyer's Gone Again Travel office.
Worldwide, blues fans respect the West Side for its deep-rooted blues music, brought directly from the South by Black workers. Prior to that, a white/Jewish West Side jazz history dates back to the Benny Goodman days of the 1920s and 30s and the Austin High School bands. An early 20th century Jewish migration from the Maxwell Street area to North Lawndale was followed by the post-WW II Great African-American Migration. North Lawndale, Garfield Park and Austin hosted a thriving music scene with dozens neighborhood lounges along the Madison, Chicago, Division and Roosevelt east-to-west main business streets. Howlin' Wolf performed in many dens on the West Side. Otis Clay, Otis Rush, Tyrone Davis, Eddie Taylor, Artie Blues Boy White, Taildragger, Jimmy Dawkins and many other talented artists made their mark here. The Delta Fish Market, an indoor outdoor eatery and stage, carried this southern-born blues legacy into the 1990s. 
As the West Side suffered economic decline and disinvestment, its music and culture declined. West Side history, musical and otherwise, has been neglected and under-documented in the common narrative of Black Chicago. This leaves West Siders feeling undervalued and under-validated. Cultural groups have lately begun addressing this gap, but there is no museum or cultural/history space yet devoted to the West Side. We need to reinvigorate neighborhood music, history and culture for the benefit of West Side residents, including those of limited means, and for the delight of visitors.
A "West Side Blues and Culture Center"at the Laramie bank building could emphasize living nature of music and culture, and welcome ongoing neighborhood participation. 
As part of the Austin Alliance proposal, exhibitor Gregg Parker's "Chicago Blues Museum" has offered an attractive, well-prepared collection of photos highlighting Muddy Waters and other world-known Chicago blues artists. This display would serve as a good introduction for visitors. 
Several people interested in West Side blues and soul music history are offering to help compile an additional exhibit of photos and artifacts which directly represent West Side blues and soul musicians and locations. General West Side history can be shown in local photos, paintings and interpretation cards about Black Panthers, early Austin High jazz, photos of area industries, sports, churches, schools. Much history remains to be unearthed from neighbors' attics and basements. 
Maxwell Street Foundation, a 501c3 educational group dedicated to the history of the Near West Side street market, birthplace of electric blues, is looking to exhibit some of their artifacts including Maxwell Street Blues Bus, from which Rev. John Johnson sold records. The bus has been damaged and the Foundation is looking to restore part of it to exhibitable condition.
A community learning space, and a small indoor performance venue, would bring arts and music education, and live music including blues to the Laramie bank building. Chicago Blues Revival, 
a 501c3 nonprofit that brings blues bands to perform in neighborhoods, offers expertise and assistance with performance space planning and music programming. 
The Austin Alliance proposal video mentions that the bank building would be governed by a board to be formed from West Side citizens. The housing part would be run by Heartland. 
Alders Emma Mitts, 37th Ward, and Chris Taliaferro, 29th ward, have a hand in appointing the citizens board, according to Athena Williams, executive director for Oak Park Housing Center and head of the Austin Alliance. 
Chicago's Austin Chamber of Commerce,  which recently reorganized with Tina Gulley Augustus as acting executive director, is monitoring the Laramie bank redevelopment as it unfolds. 
Everyone's support is appreciated  for a Laramie Bank Building project result that truly offers West Side Blues and culture.